To do Hyunseob Ⅱ _ For Gayageum
"To Do Hyunseob Ⅱ _ For Gayageum" is a composer recital of Hyun Seob Kim which consists of two parts: part one with solo gayageum play of sanjo gayageum, jeong-ak gayageum, and 25-string gayageum, and part two with the ensemble of gayageum instruments in a quintet, sextet, octet, and nonet. The performance suggests the potential and future path of various gayageum instruments and creatively expresses the aesthetic nature of Korean traditional music in a contemporary approach. As Wuruk invented gayageum with the philosophy of the ancient time, Hyun Seob Kim shows the entertainment of life with gayageum.
1. 25-string gayageum solo "Old Arirang" by Seong Hye Moon 
2. Jeong-ak gayageum solo "Self-portrait" by Seon Ah Cho 
3. Sanjo gayageum solo "Counting Stars" by Hyun Sun Hwang 
4. 25-string gayageum ensemble in nonet "Wolhyang Jidong" 
5. 25-string gayageum ensemble in quintet "Hwayongdo" 
6. 25-string gayageum ensemble in sextet "Twenty" 
7. 25-string gayageum ensemble in octet "Entertainment in Alternating Paths"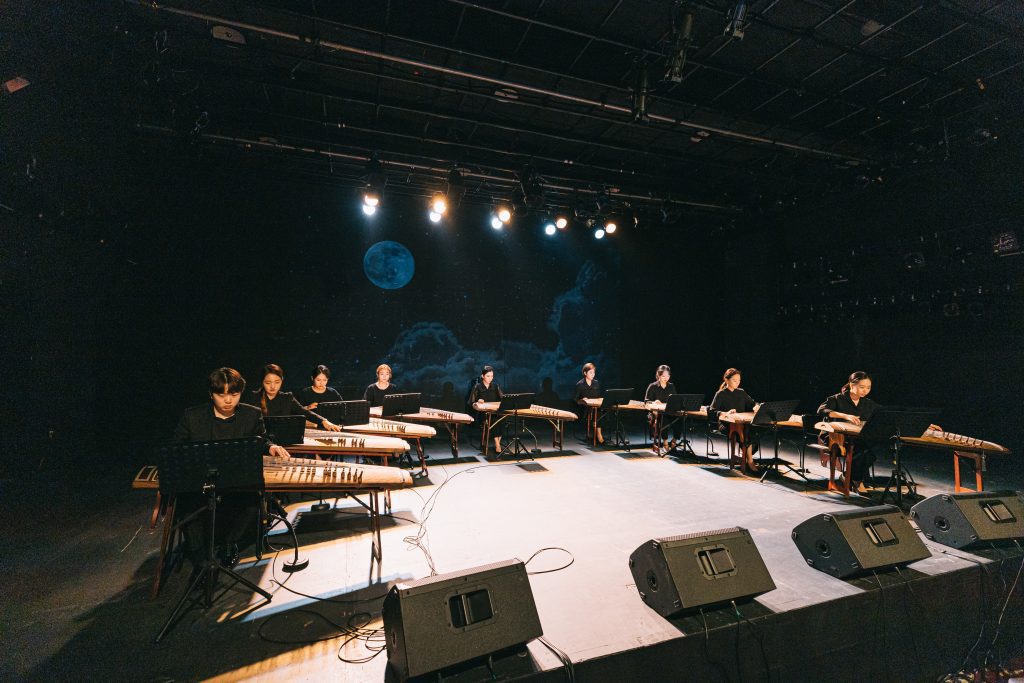 Composer Hyun Seob Kim holds BFA and MFA from K-Arts and majored in Korean Traditional Music Composition and Conducting. Kim has been selected as the first composer under the age of 30 to be the Guest Composer of 3-minute orchestra music at the National Orchestra of Korea and selected in ARKO Contemporary Orchestra Music Festival in 2017. He also has won awards from Dong-a Korean Traditional Music Competition, National Gugak Competition, Gimhae Gayageum Competition, and Shinyoung Culture Challenge. Kim has techniques to creatively use the contemporary approach in realizing the aesthetics in Korean traditional music with a sensible touch. The performance is joined by Alumni from K-Arts who majored in Gayageum Instrumental Music.
Composer.  Kim Hyun Seob
Performance.  Hwang Hyun Sun,  Kwak Kyung Hee, Song Mi Jeong,  Pil Ryeong,  Moon Seong Hye,  Jo Seon Ah, Moon se mi,  Youn so Hyun,  Choi Won Gyu, Park Ye Jeong
Video production. Kim Ji Yeon, Cho Young In
Technical supervision. Kim Jin Woo
Sound supervision. Shin Je hun
Stage progression. Kang Hyun Seung, Hong Jong Hyun
costume design. Warhand
Design. Shin Young Woo
September 4th (Fri.) 19:30
Kim Hyun Seob
E-MAIL : okno0111@naver.com
Phone : 010-9579-9112